Hi! I hope your day is going great! I had a chance to make a Valentine card and I have to say I experimented on this one with a couple different things. I wanted the candy to show through instead of rest on top of the image so I used vellum. But, as we all know vellum can be tricky to adhere to; so I used Stickles and then Glossy Accents to attach the candy to the vellum. Well, I couldn't leave well enough alone and I decided to adhere glossy accents to the outside of the vellum. I do like how it curled the vellum around just like a real gumball machine, but I don't like the crinkles I would have preferred a smoother look. If any of you have tried this I would be interested to hear how you kept it smooth. I am glad that I played around with it as I think it is still a fun card.
I also used paper that I received from Diana at D.L.Art (the black with silver). I think the texture is so pretty. The papers are made with silk and cotton and I am excited to play with the rest of the patterns:)
Recipe:
A2 size card base
Papers - Bazzill, American Craft, silk/cotton papers
Gumball - Sweethearts 3.75"
Sentiment - My Creative Time
Stickles - Xmas Red, Turquoise, Firefly, Tangerine, Thistle, Yellow
Liquid Pearls - Pewter
Ribbon - Stash
Glossy Accents
Entering:
Getty Cricky
Link Up Love Party - a way to get to know each other and blog inspiration:)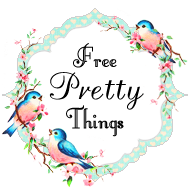 Free Pretty Things for You
- Whatever You Want Wednesday
Thank you for stopping by!